7 points to consider when investing in a pre owned grand or upright piano...
When considering a pre-owned and rebuilt grand piano or other pianos for sale, one must consider a variety of information that will determine the consistency and playability of the instrument as well as the case design and finish quality.
Cooper Piano has prepared this information as our on-going commitment of service to you, our valued customer, so that you may more easily find the right piano for your needs, both musical and visual, as well as a sound financial investment!
POINT #1
When searching for the right piano, first consider whether you are dealing with a reputable legitimate piano dealer instead of Craigslist, EBay, Amazon or someone who may operate a small "garage" type facility out of his home. Though it may be argued that some one-man operations may have one or two apparently good values, there may be trouble down the line with maintenance and service or other problems which may occur.Also you don't know who you are dealing with, let alone the unseen expenses. Purchasing in a retail store is a much safer place.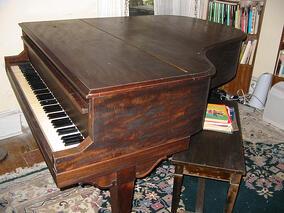 POINT #2
Be certain that the dealer offers a substantial warranty, backed up by in-house technical services, and a money-back or exchange guarantee for the instrument if you are not completely satisfied.
POINT #3
Do not make a purchase of any older reconditioned or pre-owned piano if the dealer will not allow for the examination of his piano by and Independent Registered Piano Technician (RPT) and member of the local Piano Technician's Guild (PTG) prior to your purchase of it. Also, under no conditions should you purchase in advance any grand in process of being rebuilt, as quality of tone and playability vary greatly! The rule of thumb is – if it is not ready to play, it is not ready to buy.
POINT #4
When selecting a grand for your musical taste and decor, it is generally better to shop at piano dealerships with a wide selection of sizes and styles. Reasons being that a one or two piano selection will never give you a reliable cross-section of pianos to choose from. Many times, to the untrained ear, a single piano with no comparison to make, may sound good when in fact, it may be quite deficient tonally.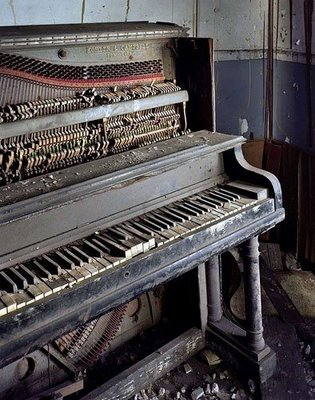 POINT #5
Buy what you really want! This may seem simple, but in some cases, dealers may attempt to sway you with price alone on a lessor instrument that you would prefer. Don't fall for this! Chances are, you'll buy ONE grand piano in your life, price not withstanding, buy what YOU want!
POINT #6
For the best possible value, stay with more widely known names in rebuilt pianos. Some of the best known of these are: Mason & Hamlin, Steinway, Sohmer & Co., Knabe, Baldwin, Petrof, Bosendorfer, or similarly built high quality instruments. A reputable dealer should have a list of names available of hand-crafted pianos worthy of being rebuilt. Pianos from "The Golden Age" of piano construction, those from the years 1890 to 1940, are the best candidates for successful rebuilding. Stay away from more obscure names with questionable materials or construction quality. Additionally, Japanese made Yamaha and Kawai pianos rebuilt with documented new factory parts are acceptable. In all instances, insist on a written warranty of 10 years parts and labor.
POINT #7
Finally, observe the "70/70" rule. A freshly rebuilt piano should, under normal conditions, have a useful life of at least 70 years from the time you purchase it, until it will need to be rebuilt again. Fair price ranges for such pianos of better quality names should not exceed 70% of the price of a comparable new piano.
We at Cooper Piano are sure these "points" will help you make an informed decision in your search for a quality grand piano, and we thank you for the opportunity to help!